Download NFO Sinus Manager v.2.0.0.7 by clicking on the link to the right.
NFO Sinus Manager properties
Easy to manage multiple parameter settings for more than one frequency inverter.

Update and backup parameter settings.

Control and monitor frequency inverter using serial ports.

Use more than one serial port simultaneously.

Graphical monitoring of chosen parameters.

In-built keyboard simulator.

Support for MODBUS.

System requirements
Operating systems supported: Windows 7, Windows 10.

A RS232 (serial) port on the computer or a USB to serial port adapter.

Serial cable suitable for NFO Sinus. Available via NFO Drives AB or connect according to inverter manual.

Correctly connected cable.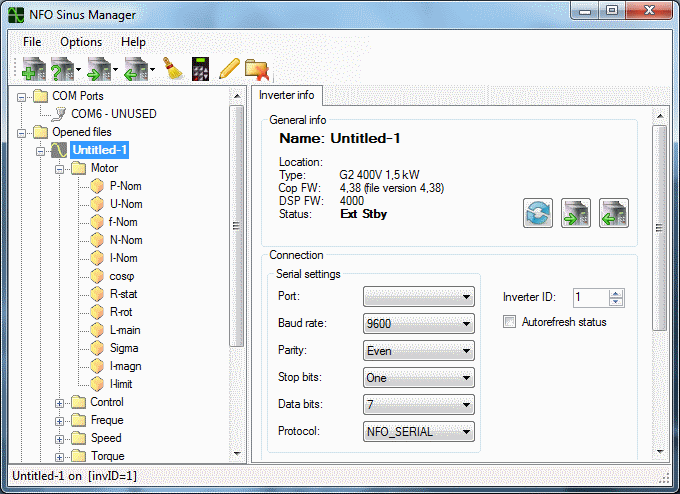 NFO Sinus controls electric motors with pure sine wave power. It offers a range of different benefits that can be put to use in different ways in different applications:


Residential and business properties(HVAC)
Industry(HVAC and machines)
Agriculture and equestrian facilities(vacuum pumps, machines, etc.)
Warehouses and cold storage(HVAC)
Laboratory, testing and research facilities(HVAC)
Marine (HVAC)
Radio and TV studios (HVAC)
University and schools (HVAC)
Hospitals(HVAC)
Theatres and concert halls(HVAC and machines)
Waterworks and pumphouses(pumps)
OEM -integrating your own company's products