The optimum motor control
NFO Sinus is the obvious choice for motor control of electric motors. As the only product on the market, NFO Sinus transforms the frequency of the sine curve while maintaining a pure sine curve. This technology allows you to reduce bearing damage as no bearing currents occur. This in turn means cost-effective, uninterrupted operation of engines. At the same time, the motor can be operated quietly and without the need for expensive shielded cables. Overall, this makes the NFO inverter a profitable investment that often pays-off within 1 year. In addition he low energy consumption helps you reach your sustainability goals.
Get inspired and read more about the benefits and application areas of NFO Sinus in our PPT presentation.
+ No shielded cables




+ No complicated installation requirement




+ No limitations of distance.
+ No electomagnetic interference
+ No irritating switching noise
+ No bearing currents
+ No earth currents
NFO Sinus 3x400V 4-7,5kW IP54
NFO Sinus 3x400V 7,5-15kW IP20
Mechanical Dimensions 0,37-15kW
NFO PWM 3x400V 0,37-90kW (DE)
CE-marking - Declaration of Conformity 2017
CE-marking - Declaration of Conformity NFO Sinus Optimal 2,2kW
Checklist - Installation NFO Sinus
NFO Sinus Manager properties
Easy to manage multiple parameter settings for more than one frequency inverter.

Update and backup parameter settings.

Control and monitor frequency inverter using serial ports.

Use more than one serial port simultaneously.

Graphical monitoring of chosen parameters.

In-built keyboard simulator.

Support for MODBUS.

​
System requirements
Operating system: Windows 10.

For NFO Sinus: RS232 serial port or USB to serial port adapter on your computer, and a custom serial cable for connection with the NFO Sinus. Serial cable is available from NFO Drives AB. Alternatively connect according to the NFO Sinus manual.

For NFO Sinus Optimal: USB port on your computer and a USB A/B cable. Change Sinus Manager default setting for communication from NFO Classic to Modbus RTU, in menu Options/Settings/Default COM Settings (se picture).
Download NFO Sinus Manager by clicking on the link below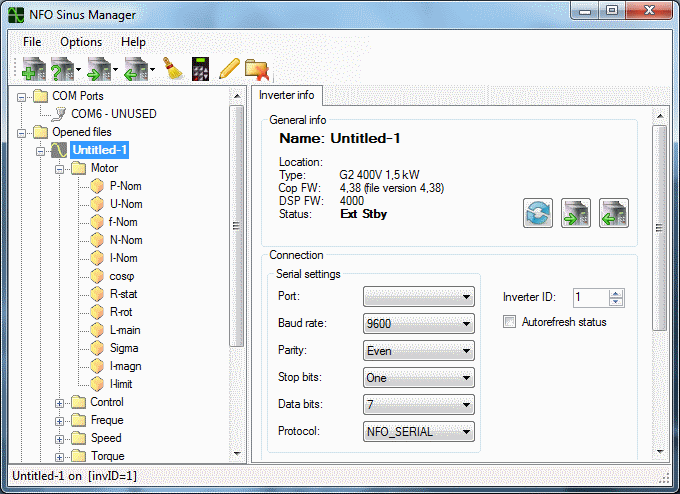 NFO Sinus controls electric motors with pure sine wave power. It offers a range of different benefits that can be put to use in different ways in different applications. The list below is just applicaitons where NFO Sinus is beneficial


Residential and business properties(HVAC)
Industry(HVAC and machines)
Agriculture and equestrian facilities(vacuum pumps, machines, etc.)
Warehouses and cold storage(HVAC)
Laboratory, testing and research facilities(HVAC)
Marine (HVAC)
Radio and TV studios (HVAC)
University and schools (HVAC)
Hospitals(HVAC)
Theatres and concert halls(HVAC and machines)
Waterworks and pumphouses(pumps)
OEM -integrating your own company's products
Download the newly developed NFO Sinus Manager for your Sinus Optimal inverter by clicking on the link below
Have in mind that this can be seen as a Beta-version at the moment, feel free to use it, but please let us know if you encounter any issues or bugs.