The optimal motor control
+ No shielded cables




+ No complicated installation requirements




+ No distance restrictions
+ No electomagnetic interference
+ No irritating switching noise
+ No bearing currents
+ No earth currents
Features of NFO Sinus Manager
Easy handling of multiple parameter settings in multiple frequency converters.

Update and back up parameter settings.

Control and monitor frequency converters via serial ports.

Use multiple serial ports simultaneously.

Graphic monitoring of selected parameters.

Printing function for parameter lists.

Built-in keyboard simulator.

Support for MODBUS.
​
System requirements
Operativesystem: Windows 10

For NFO Sinus: An RS232 serial port on the computer or a USB to serial port adapter, and serial cable adapted for NFO Sinus. Serial cable is available via NFO Drives AB, alternatively connect according to the inverter's manual.

For NFO Sinus Optimal: A USB port on the computer and a USB A/B cable. Change Sinus Manager's basic setting for communication from NFO Classic to Modbus RTU, in menu Options/Settings/Default COM Settings (see image).
Download NFO Sinus Manager for G2 inverters by selecting the file below.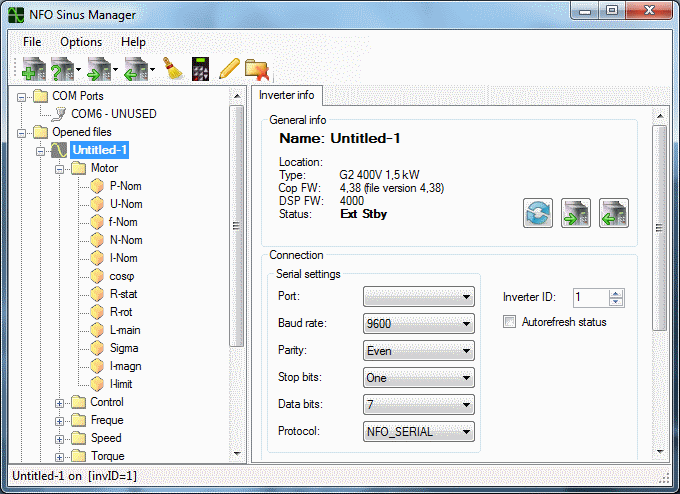 Download our newly developed software for Optimal Converters by selecting the file below.
Energy cost over time when running with a frequency of 25 Hz